Have you been thinking about having your smile straightened? Do you regret the fact that you never had your smile straightened as a teen, and now you feel that you will never be able to have the smile of your dreams? If so, you will definitely want to come and visit us at our dental practice, Upen J Patel, DDS. Dr. Patel has been able to help many adults achieve beautiful and long-lasting smiles through the use of Invisalign orthodontic care. If you are thinking about getting Sacramento Invisalign treatment, you will definitely want to come to our dental practice.
Our dentist, Dr. Upen J. Patel, is a highly trained cosmetic, implant, and general dentists. He has provided outstanding smiles treatments for many local, national and international patients as well. If you want to have your smile straightened, you may be an excellent candidate for treatment with Invisalign invisible braces. Sacramento Invisalign is such a popular way for patients to receive orthodontic care because treatment with Invisalign is extremely discrete. Invisalign is actually a series of clear plastic aligners that are made to fit each person's individual smile needs. Depending on the smile malocclusion that is being corrected, your series of aligners may include anywhere between 15 and approximately 40 aligners. Each aligner is worn for two weeks, and will slowly move teeth into their new desired positions. When you have completed wearing your last aligner, you will have your beautiful new smile, and your treatment with Invisalign will be complete.
Our patients enjoy being treated with Sacramento Invisalign for many reasons. To begin with, our adult patients are able to attend work, and social gatherings in total confidence, knowing that no one will be able to detect that they are actually receiving orthodontic care. Additionally, the clear plastic aligners are removed for eating, so patients are able to eat anything they want during the entire treatment time. This is definitely not the case when a patient is being treated with metal or ceramic braces. Also, since the aligners are removed daily our patients can thoroughly brush and floss their teeth ensuring that their teeth will be as healthy and bright at the end of treatment as they were in the beginning. For an appointment to meet with our expert dentist to find out if you are a good candidate for treatment with Invisalign, contact us today.
By Upen J Patel, DDS
February 28, 2019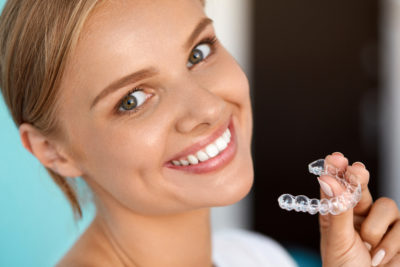 Blog Posts
Follow Us